...Running At The Speed of Life...
"Thanks for the continued support everybody, it really means more to me then you'll ever know."- Bowie
---
IN BOWIE RELATED NEWS:
02-13-08- SCARLETT JOHANSSON GETS BOWIE TO GUEST VOCAL. Actrss turned singer Scarlett Johansoon's debute album "Any Where I Lay My Head" a collection of Tom Waits' songs will feature Bowie's voice on two tracks "Falling Down" and "Fannin' Street."
---
01-14-08- THE MAN WHO FELL TO EARTH- THE MUSICAL. Rumor of this production surfaced about a year or so ago and has since resumed. Here is the web site The Man Who Fell to Earth. The site includes costume designs, as well as mp3s of several of the musical numbers. Worth a look.
---
01-11-08- OK GO to cover "Rock'n'Roll Suicide." Their EP titled You're Not Alone which will be available via Itunes February 5 will feature the cover along with the Bob Dylan tune "I Shall Be Released."
---
1-07-08- Firstly a very belated Happy New Year to everyone!
On the eve of Bowie's birthday (we'll let the wife sort out the numbers), we want to give everyone the oportunity to leave him some very warm and wonderful wishes. Send them this way Happy Birthday
---
12-13-07- IMAN'S GLOBAL CHIC. Ambermag.com, the urban beauty source, is currently featuring a video of Iman's latest line of jewlary and accessories. The line includes two replicas of rings that her husband, Mr. Bowie has given her over the years. See this stunning line here
---
10-16-07- "I've brought you a gift..." LABYRINTH fans will be pleased to hear that the NECA (National Entertainment Collectibles Association) has plans to release another Jareth the Golbin King collectable action figure. This reported by a devote Labyrinth fan on BowieWorldworld.com earlier today here complete with pictures.
PLUS
Keanan Duffy's new men's line "Bowie" is now available at Target stores nation (USA) wide. The limited edition cd, "Strangers When We Meet" is also out, but be advised that most fans have reported back that the cd isn't on the sale's floor yet. Ask after it though. See and hear it at Target Online. Or for the more artistically inclined view some fans modeling the clothes here
---
10-02-07- "Ground control to Major Tom..." Space Oddity played their Las Vegas show this past weekend and our news editor was there to capture some amazing shots and chat it up a little with David Brighton, read and see it all here .
PLUS our YouTube page TVC15 had a promotional video for the David Bowie clothing line by Keanan Duffy pointed out to us. Watch it by following the TVC15 link and looking under our bulletins for "Keanan Duffy- fashion."
---
09-24-07- The October issue of Classic Rock magazine is promising a delicious edition of 40 Years of Bowie.
PLUS the Labyrinth Anniversary Edition is available for order now through Amazon.com.
ALSO The Bowie Experience and SPACE ODDITY are both busy with shows this month as well as in October. Our own news editor Heather M. is off to Las Vegas this weekend to cover Space Oddity. She promises pictures.
---
06-29-07- KEANAN DUFFTY TO LAUNCH THE BOWIE COLLECTION. Come October 2007 Duffty will launch through Target Stores and Target.com a new line of men's clothing inspired by David Bowie. The line will feature tuxedo jackets, dress shirts, and rocker t-shirts. Check out Duffty's online store, with that oh, so familiar Young American's verse,
PLUS
Both tribute bands SPACE ODDITY and THE BOWIE EXPERIENCE have shows lined up for July.
Space Oddity- www.DavidBowieTribute.com
The Bowie Experience- www.thebowiexperience.com
---
06-14-07- BOWIEBALL JUNE 25TH. See link
---
06-08-07- LABYRINTH TO GET ANNIVERSARY RELEASE. Jim Henson Co. in association with Columbia Tri-Star have just released the special anniversary release of Labyrinth, in which acted in and did the sound track for. Here's the bonuus features to expect,
Newly Rediscovered footage recovered from Jim Henson's home in England
60 minutes of featurettes, new interviews of the writers and performers behind the magic including:
George Lucas (Executive Producer)
Brian Henson (Hoggle/Goblin Voice/Puppeteer/CO-CEO, The Jim Henson Company)
Brian Froud (Conceptual Designer/Supervisor)
Karen Prell (The Worm/The Junk Lady/Firey 2)
Dave Goelz (Didymus/The Hat/The Guard/L. Doorknocker/Firey 3)
Mira Velimorivic (Jim Henson's Creative Assistant)
Gates McFadden (Choreographer)
Toby Froud (Toby)
Jane Gootnick (Senior Puppet Builder)
See the link for ordering details,
http://www.muppetcentral.com/news/2007/060607.shtml
---
06-02-07- BOWIE EXPERIENCE DATES for the month of June. The boys are in full summer swing,
Friday 1st - Laurence - The Cricketers, 41 Windham Road , Bournemouth, Dorset - Tel, 01202 551589
Saturday 2nd - Laurence - The Clockhouse Inn, Main Street , Chideock, Dorset - Tel, 01297 489423
Friday 8th - Laurence - The Spice Ship, 240 Preston Road , Preston, (N`r Weymouth ) Dorset. Tel, 01305 834651
Saturday 9th – Laurence as davidbowie – solo, Private party.
Wednesday 13th – Laurence as davidbowie – solo, The Perkin Warbeck, 22/23 East Street , Taunton , Somerset , TA1 3LP
Friday 15th - Laurence - The Greyhound Inn, The Square, Corfe Castle , N`r Wareham , Dorset . - Tel, 01929 480205
Saturday 16th – Laurence – The Waterfront Inn, Golf Links Road, Westward Ho, North Devon, EX39 1LH
Friday 22nd - Bowiexp band - The Boom Boom Club/Sutton United FC, The Borough Sports Ground, Sutton, Surrey - Tel, 0208 4604907
Saturday 23rd - Laurence - The Bell , 71 High Street , Wimborne, Dorset . Tel, 01202 883105
Sunday 24th – Bowiexp band - Canford Cliffs Party in the Park, (12 noon till 6pm) Canford Cliffs Park – Meriden Close (opposite the Night Jar), Canford Cliffs, Poole, Dorset ,
Event is being held in aid of the Youth Cancer Trust Charity – FREE ADMISSION
Three other bands playing from 12 noon – Caribbean Connexion, Black Bart and Fearne.
Event is being supported by many local businesses and there will be Hog Roast, BBQ, Kid zone, Beer tent, Wines, Cocktails. – Bowiexp playing 4.30pm – 6pm. - Tel, Jane Jones PR, 01202 700899 or 07968 796394
---
06-01-07- PHILIPPE AULIAC 'POINT EPHEMERE PERFORMANCE'- Paris, France. Auliac is preparing for a show of some delicicous Bowie shots from the 1970s on June 9, 2007.
PLUS, there's a rumor going round according to Bowie Wonderworld and the Icelandreview, Bowie has agreed to appear in another movie titled, CORNELIUS FLY. Follow links for more information,
May 24, Bowie Wonderworld, http://www.bowiewonderworld.com/bowienews/news.htm
Icelandreview,
http://www.icelandreview.com/icelandreview/daily_news/?cat_id=16539&ew_0_a_id=282674
---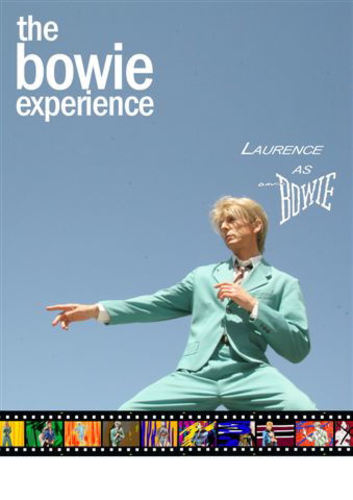 Laurence of the Bowie Experience- click the image to be taken to their web site for latest shows times.