Interviews
"Me I'm fresh on your pages"- Win
Here you'll find concerts reviews and interviews done by and with bands, tribute acts, impersonators, artists, and the like all Bowie connected/related.
SPACE ODDITY REVISTED
"Oh my, I can't believe you came all this way for us!"
I'm back stage at the Cannery Hotel and Casino in Las Vegas, and receiving a hug from David Brighton. It has been some three years since we crossed paths via the internet. The Vittel Water commercial had been out for a while and he had agreed to let me interview him for Speed of Life. We are meeting face to face for the first time.
"This trip was just as much for me as it was for you, " I tell him.
The past two hours have been spent in Bowie heaven. His band SPACE ODDITY have been ripping it up for fans during the Cannery's Rocktober Fest. We got Ziggy Stardust, The Thin White Duke, Pop Icon of '83, and even a little modern day Bowie. A collection of skilled musicians performing some of rock's greatest music- it was a night under the stars, loving the alien.
Since 2004 the act has gone through some changes. Brooke Naughton has now joined the group and she sings with fierce attitude on songs such as "Knock On Wood." There's a new guitarist playing as well, Switch, whose Mick Ronson is living attitude. Plus a new costume change,
"Reality Bowie," he says showing off his tuxedo jacket and red scarf. "I get different people to make the costumes. The first ones I sort of scared away- 'You're too annual!' [laughs] But now I've found some people who are almost more picky than I am- 'No, I think we can get that closer.' Like I'm going to argue with them over it!"
-Heather M September 2007.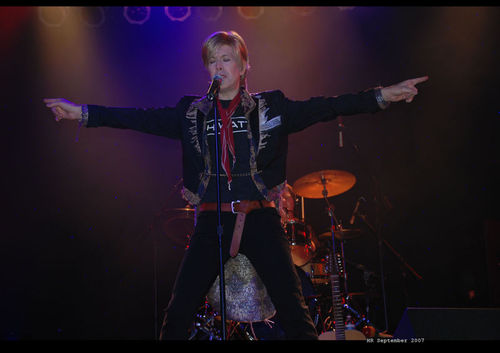 David Brighton strikes a Ziggy pose. CR Heather Reavis 2007
---
The return of the thin white duke- The Diamond Dogs at the Beach Tavern
By: Lady Stardust
ch-ch-ch-ch- changes..
I first saw The Diamond Dogs on Bowies birthday just over a year ago at the Hailsham Pavillion. They were just starting out and were then known as Hunky Dory, however, due to some initial teething problems not only have they since changed their name but a few of the band members as well! Most noticeably though, in the year that has passed since I last saw them, they have gelled into a really tight and competent band.
Mannequins with kill appeal..
The band opened an impressive set list of 28 songs with Space Oddity; not one of my personal favourites but a prerequisite all the same. This was followed by Jean genie and Queen Bitch at which point I noticed a few more feet tapping! I didn't get the impression that the crowd in the Beach Tavern were hard core Bowie fans, but the band seemed to be generally well received. My early observations were that vocalist John must have spent many hours studying Bowie's mannerisms; as being of similar stature to Bowie and with the same fine bone structure and a very convincing wig, he seemed to morph more and more into Bowie as the evening went on.
The set was in two parts; the first consisting of songs from the early albums Ziggy Stardust, Aladdin Sane and Hunky Dory and included many of my favourites such as Hang on to yourself, Moonage Daydream, Suffragette City, Starman and of course the obligatory anthem, Ziggy Stardust. I was also thrilled to once again hear Wild Eyed Boy from Freecloud leading into All the Young Dudes; Hammersmith Odeon style (thank you!) Towards the end of the first set the band delivered a faultless performance of Life on Mars and John I'm only dancing.
The second set commenced appropriately with Diamond Dogs and was followed by more upbeat songs such as Rebel Rebel, Golden Years, China Girl, Fame and Heroes. These more commercial Bowie songs seemed to appeal more to the audience and got everyone up on their feet dancing and shouting for more.
You're wonderful
All good things have to come to an end and the performance was over all too quickly and the evening was wound up with an encore of Lets Dance and Rock and Roll Suicide. For me, Rock and Roll Suicide was the absolute highlight of the evening, complete with Ziggy theatrics - and that was just from the crowd!
We can be heroes just for one day..
True Bowie fans are extremely hard to please; generally we tend to be purists and Bowie tribute bands tread a very fine line, however the bands performance on Friday evening just blew me away!
Never mind the return of the Thin White Duke - Ziggy is back and hopefully, here to stay!
---
Hallo Space Boy
- interview with author Dave Thompson
By: Heather MMarch 2006
Writing as well as reading biographies can be a challenging experience. For the reader it's the challenge of ciphering opinions and legitimates often times going from a simple read to a comparison of notes to ensure accuracy. Tracking down co-workers, friends, verifying dates, sustaining chronological order- it can take years for an author to collect and compile the facts. For Dave Thompson it has taken nineteen years of collecting, note scribbling, and people badgering for him to write the biography Hallo Spaceboy: the Rebirth of David Bowie. The book picks up where the first installment Moonage Daydream left off, including in its content what his half-fictional, half-factual book To Major Tom left out. It makes for a complete trilogy that offers Bowie fans detailed facts and smooth time lines, ensuring not only great Bowie knowledge, but a devote awareness of music. Heather M: "When this started back in 1987 with Moonage Daydream, a book which not only included personal accounts from associates and friends, but also a detailed chronology of Bowie's work up until the time of publication- what was the inspiration for the original endeavor?" Dave Thompson: "Well, I'm one of the countless British 12 year olds who saw "Starman" on Top Of The Pops and became instant Bowie fans. When, over the next couple of years, I decided I wanted to be a music journalist when I grew up, my main reason was, so I could hear new Bowie albums before anyone else, and review them. In fact, the first one I got to review was the live Tin Machine album, which just goes to show, be careful what you wish for [entices a good humored chuckle].
"Back to Moonage Daydream - to be honest, I'd never been completely happy with any of the other biographies out there. I always felt that they sacrificed context, and cause and effect (which I think are the most fascinating elements in any biography), for a simple route march through the known facts, and the writer's own personal theories. So I decided to have a go myself...."
HR: "Now some nineteen years later you come back to offer another installment Hallo Spaceboy- The Rebirth of David Bowie. Does this book pick up where you left off back in the 80s?"
DT: "To the minute!"
HR: "And why put another book together?"
DT: "To be honest, for a few years after Moonage Daydream came out, I never imagined there could ever be a need to follow it up... at best, I occasionally thought of writing an update of the original book, with a final chapter or so, but that was about it.
"And then around the time of "Earthling," I started thinking - if he keeps going like this, it really might be worth doing, so I just started ferreting stuff away, picking up odd tapes and video things, scribbling rough chapter outlines. I decided on the title at that time as well, it flowed nicely from Moonage Daydream and, in a way, summed up my own feelings towards Bowie's 're-emergence.'
"Then along came my 'other' Bowie book, which was the novel To Major Tom and that reawakened a lot of my old excitement and enthusiasm for his music. I found myself playing the Deram album at odd times. There was a period when I had that and "Hours" in the CD disc changer, and just hit random play between the two. I was astonished by the fact that here were two albums, made 30 years apart, and they were both capable of moving me in similar ways (if you haven't played it lately, go back and listen to the Deram album. There are some very surprising ideas on there, which he wouldn't return to until "Hours" and beyond.) Anyway, that's when I decided it was time to get going on the new book, and now I'm hoping we can make it a trilogy."
HR: "In Hallo Spaceboy who are some of the more prominent people you talked to? In Moonage Daydream you talked to a wide range of people- Tony DeFries, Iggy Pop, Tony Visconti- are we going to get the same first hand information?"
DT: "Funny thing (I go into this in depth in the book) people who work with Bowie do not like to talk about him, at least on the record. Too many past casualties, I think - loose lips sink ships and all that. When I was writing Moonage Daydream, the ships had already been sunk. This time around, I'm afraid I've had to be a little more circumspect."
HR: "Something very exciting fans can expect in the new book are pictures taken by fans of Bowie. Whose idea was it to include such photographs?"
DT: "We were looking to do something different with pictures - you see so many 'professional' photos and, every tour, they all look like they were shot at the same gig, probably during the same song. Whereas fan pictures often have a warmth and an excited spontaneity to them that you really don't see elsewhere. And I do believe that Bowie's success over the last decade or so is purely down to the fans - meaning, it's not clever marketing, it's not a catchy image, it's none of the stuff that you can argue worked for him during the 70s/early 80s. It's the fans all the way, and this is our way of illustrating that."
HR: "Will you also include professional shots? I assume the front cover is professional?"
DT: "Yes. There'll be a mix of both."
HR: "What would you say was the easiest part of putting together Hallo Spaceboy?"
DT: Once I realized (and, again, I credit "Hours" for this) that Bowie's music still meant as much to me today as it did when I was a nipper, it was so much fun that I'd say the whole thing was easy. EXCEPT I cannot stand "Black Tie White Noise." Hate it, hate it, hate it [laughter]. So, writing about that period was VERY difficult. But once I got past that...."
HR: "You stated that really in the end to write the book 'was so much fun that I'd have to say the whole thing was easy.' So aside from the 'difficult' "Black Tie White Noise" was there anything that was hard about the complete process of the book?"
DT: "Really, no. Trying to persuade some people to talk was a bit more of a bother than I would have hoped, but it was basically one of those books that wrote itself."
HR: "Hallo Spaceboy is due out in June of this year, what are your promotional plans for the book- are you going to do a book tour or hold a book signing?"
DT: "I doubt I'll do either of those things, but there should be some radio/TV interviews, and anything else ECW come up with. I leave that sort of thing to them!"
HR: "And finally what can fans of Moonage Daydream, To Major Tom, and Hallo Spaceboy expect from Dave Thompson in the future?"
DT: "I'm currently working on a book on early independent film-makers... there's a biography of the original Jeff Beck Group on its way - and after that, who knows?"
---
He Sang All Night Long- An interview with Des de Moor
By: Heather M June 2005
It has now been two years since Des de Moor and Russell Churney amazed the world of Bowie fans when they recorded and released their album "Darkness and Disgrace." A tribute in the most spiritual of senses, the songs chosen were reworked, reinvented, and recreated to bring forth new dimensions.
It has also been about the same time since Darkness and Disgrace saw its last stage performance. Until this past Friday, the 24 of June, when Moor performed them again in Blue Hours at New Greenham Arts.
Beaming with excitement over the prospect of bringing the full theatre piece to life again, Des de Moor talks about the work that went into the production, as well as the unexpected impact on the Bowie fan community.
Heather M: Let's talk about "Darkness and Disgrace", and the work that went into it. You are obviously not a stranger to the stage, and there have been other artists whose material you have presented in your own style, it seems though that "Darkness and Disgrace" was the first major re-interpretation that you have ever under taken. So my first question is rather obviously, what inspired this project, and why choose David Bowie?
Des de Moor: I suppose the real inspiration to get the project going was Russell's enthusiasm. I'd been thinking for quite a while of developing whole sets of material by particular songwriters, and the first ones that came to mind -- no surprise here for people who know my wider work -- were Jacques Brel and Bertolt Brecht. But then I thought at some point I'd like to do a set of David Bowie songs too. Bowie was the first musical artist I really got into back in my teenage years, and it was partly through Bowie that I started to get into material like French chanson and German theatre songs, with the result that I largely lost interest in rock music. But the Bowie interest never went away and all the songs were still there in my memory.
Like, I think, most musicians I tend to walk around with music in my head that I sing along to very quietly, and once I thought of the Bowie idea I just found his songs in my head more and more, thinking how I could interpret them in a cabaret-chanson-jazz format. I decided I'd particularly like to do Time, partly because it's already a Brechtian pastiche and therefore easier to interpret in that style, and partly because it was a watershed song for me when I first heard it at the age of 12, just after it first came out on Aladdin Sane. I think it was a key moment in shaping my aesthetic sense. It's interesting because I've since found that song on that album really divides people -- there's the people like me who really liked Time and Lady Grinning Soul and the title track and will probably be more sympathetic to Darkness and Disgrace, and the people who like Watch That Man and Jean Genie and hate those other songs, and will probably not like Darkness and Disgrace very much either
Russell and I then had a gig to do together and at the rehearsal I asked him if he knew Time because I was thinking of doing it. He immediately sat down at the piano and we started busking through it, and it quickly became clear that was he was also a Bowie fan. He also shared with me an admiration for the pianist Mike Garson who makes such a contribution to that album and of course has gone on to work extensively with David over the years. I think it was hearing Garson's playing on Aladdin Sane and Diamond Dogs that shaped my feelings about the expressive possibilities of the piano -- if you listen to jazz pianists from the 1950s onwards and especially to Latin jazz players like Eddie Palmieri you realize Garson's approach isn't unique, but he was the first person I'd ever heard playing the piano like that, and one of the few to bring that sensibility into a rock context.
With Time going so well I tried out Russell on the idea of doing a whole show of Bowie songs and he was immediately enthusiastic, which meant that Bowie leapfrogged Brel and Brecht in the queue for the dubious honour of a whole Des de Moor show. There was the added attraction that doing Bowie songs would also be both more surprising and, to be honest, a bit of an easier sell.
Originally I was thinking of an in concert performance, but thought it would be useful to bring in a director to give the whole thing more shape and present it in a more polished way. I mentioned this to my friend Barb Jungr, who is herself, an outstanding cabaret and chanson singer and performer, and she put herself forward as director. It was Barb that pushed the project more towards being a theatre piece, not only the songs but also the lighting, the movement and the spoken word material. In the original version there were some spoken word sections -- for example we prefaced We Are The Dead with an extract from George Orwell's Nineteen Eighty-Four in which the phrase 'we are the dead' occurs, and we also used extracts from interviews with David. But there was also quite a bit of "talking to the audience between songs", although all this was actually scripted and learnt by heart. As the show evolved, these sections either evolved into carefully written monologues, or got taken out except for the section preceding the encore, and we included more interview extracts, a scene from The Man Who Fell to Earth, an extract from Robert Heinlein's Stranger in a Strange Land, W H Auden's MusÃÃÆ''©e des Beaux-Arts poem with the reference to Breughel's Icarus and so on.
HM: You have a wide range selection from Bowie's extensive catalogue- what drew you to the songs that were chosen?
DM: There were several factors involved:
- songs that would work in the format, that had strong enough lyrics, where the themes of the lyrics seemed to fit and we could see a way to interpret them theatrically
- songs that would survive being performed in very simple arrangements with acoustic instruments. For example I don't think we could have done Rebel Rebel or The Secret Life of Arabia.
- songs that covered a wide period of Bowie's career -- although most of the songs are from the 1970s I was keen to include examples of the earlier Deram material and the more recent stuff. I'm not alone in having lost interest in his work after Let's Dance, but my partner introduced me to the Buddha of Suburbia/Outside/Earthling period where he found his muse again. I have to say that the two songs from the 1960s, London Boys and Please Mr Gravedigger, and the two from the 1990s, Buddha of Suburbia and I Have Not Been to Oxford Town, are real highlights of the piece for me.
-and obviously, songs we liked.
In the original version we deliberately excluded the obvious hits to avoid completely any whiff of tribute band material, although we did do Life on Mars? as an encore. When we came to rework the show for what I think is the definitive version, and the one reflected on the CD, we rethought a bit and put a few better-known songs in, including All the Young Dudes, Boys Keep Swinging and "Heroes", although we've radically transformed that last one. We also added the medley of Be My Wife and Always Crashing in the Same Car to beef up the Berlin-period content. That meant getting rid of a few -- Saviour Machine, the second half of The Width of a Circle, Sons of the Silent Age and Scream Like a Baby have been in there in the past but have been cut for various reasons.
HM: Russell Churney seems to fit perfectly as the choice for pianist, and Barb Jungr vocals harmonize very well. Was it hard to find other musicians/artists to collaborate with on this project?
DM: No. As described above, the whole thing just seemed to fall into place. What's hard now is for me to do the songs in anything other than a duo with Russell. As a singer I work with several different pianists, all freelance and with other, often better-paying, gigs on the go. But the D&D songs are such a collaboration between Russell and myself, with him not only playing but singing a lot as well, and we've played them together so many times, that it is nigh-on impossible to prise them out of the show and include them in sets I do with other pianists if Russell isn't available.
Incidentally, although Barb contributes some vocals to the album, she didn't sing in the live show. Since she was the director, and so important to the piece, I thought it was important to have her physically represented on the album, plus of course she has a great voice which I knew would add an extra dimension to the songs she's on.
HM: Recall and describe the first performance of "Darkness and Disgrace"- your state of mind, audience/fans' responses.
DM: For me the whole thing was overshadowed by the fact that the day before we opened, I'd been in an accident and cracked a rib. I saw the nurse at my GP's practice that morning and she said there was very little I could do except dose up on ibuprofen. It was painful to take deep breaths, a major problem when you're singing, especially on something like D&D. It's a really demanding show for my voice, with a big expressive range, a big dynamic range, and it's also at the absolute limits of my pitch range too, almost two and a half octaves from a low G to a high B-flat. The painkillers and the natural adrenaline of performing made it easier, but I didn't have time to get nervous -- I was too busy concentrating on my breathing, which was probably a good thing. I've also done the show with almost no voice at all, with a terrible sore throat, to a packed house at the end of a run, and nearly all of them Bowie fans who organized to come through Bowienet.
But audience reactions have been almost entirely positive- they laugh at the jokes, they get quiet and tense in the dark bits, and they join in the chorus of All The Young Dudes at the end. The things I've heard most often from audience members, and each of them many times over, are either: "I haven't been a big Bowie fan until now and I didn't realize his songs were this good so now I'm going to check them out again"; or "I'm a big Bowie fan and really thought I knew these songs, but you've brought out whole new dimensions in them for me". So we must be doing something right!
The audience I most remember was one night at the Edinburgh festival, a Saturday night and we had a midnight slot in quite a small space, all of them having already partaken generously of pints and drams. Everyone was rowdy and really out for a good time, and clearly not in the best of moods to explore the emotional depths of Tired of My Life and It's No Game with us. During London Boys, just after I sung the line "You're gonna be sick but you mustn't lose face" the whole audience collapsed in uncontrollable laughter, together with much scuffling. We just had to stop. It turned out that just at the moment I'd sung the line someone actually had vomited on the floor, so the whole show was stopped while the staff went to fetch a mop and bucket. Meanwhile we just chatted to the audience -- someone was asking Russell about what happened to Fanny the Wonder Dog (once part of the act of comic Julian Clary, whom Russell famously worked with). We restarted the show having found a new solidarity with our audience and it went very well indeed after that.
HM: Did you have a particular goal or aim in the production? And do you feel that expectations were met?
DM: First and foremost I just wanted to do a good show. I think the only guideline for an artist in these matters is to create something that you yourself would like to see, and hope there are enough people out there who agree with you, and that's what we did. And yes, I'm very pleased with what we achieved. I'm proud of the reactions I spoke about above. I'm proud of the fact that David himself seemed to like it, and I'm proud that we not only found interesting ways to approach these great songs but we also did something in a very unusual format that combined song performance with theatre in an interesting way.
I'm slightly more disappointed with some of the reactions to the album, which has had a couple of quite nasty reviews in the mainstream pop music press. I think in all honesty these people must have been expecting rock covers of rock songs, and when they got something different they didn't know how to react. Also, I think it's in the nature of the chanson and cabaret approach to find and emphasize the emotional content of the songs in the performance, and a lot of British rock fans aren't used to this and find it difficult to handle. Rock arrangements tend to swamp the emotional nuances of the material, and I think a lot of rock fans prefer it this way. It comes back to the fact that there are lots of people who love the Bowie of Hang Onto Yourself and would rather forget this was the same Bowie that sung Brel's My Death and Tiomkin's Wild is the Wind.
But I also think that even with the best of intentions, it's not easy to make sense of the album outside the context of the show. You think, "why are they doing Bowie songs with just voice and piano", whereas in the show the answer is obvious. I listened to the album the other day and I think we made the wrong decision in following the running order of the show so strictly -- the songs that really stand out as recorded versions, like "Heroes", Lady Stardust, Time, and the medleys of London Boys/Boys Keep Swinging and Be My Wife/Always Crashing in the Same Car, are too far down the running order. Diamond Dogs makes a great opener on stage but I can forgive people for listening to the record and thinking why are they doing this R&B stomper with just piano when Bowie did it with a band?
HM: And finally, what can fans of Des de Moor expect for the future?
DM: -- I'm hoping to do some more live shows of Darkness and Disgrace! I think there's life in it yet.
-- I'm now working on my own next album of original material, although probably won't be finished until next year. It's called Testing Times and it's long overdue.
-- Barb Jungr, Robb Johnson and myself are working on a complete English translation of Jacques Brel's final album Brel from1977, which Brel produced knowing he was dying of cancer and having not made an album of new songs for a decade. It's an extraordinary work. Robb and I have done the translations between us and the three of us intend to record them some time over the next year, also including five songs which were recorded for the album but didn't make the final cut, and weren't finally released until 2003.
-- I've recorded a song called Jackboot Democrats by Leon Rosselson, a veteran English chansonnier, for a various artists tribute album of Leon's songs that's due to be released in the autumn.
Contact Des de Moor by visiting his web site: www.desdemoor.com
---
They Call Them the Diamond Dogs
By: Heather M 2005
Breaking into the entertainment world is a hard task, whether you're an aspiring actor, an experimental director, or even a David Bowie tribute band. The third one is perhaps the hardest- first you need someone who can imitate the voice; then there's a million fans to convince, and most important the stamina to keep up with someone who's known as the Chameleon of Rock.
It's a task that the guys (and gal) of Diamond Dogs fully understand and fully accept with open arms.
Some where between the little crisis and overwhelming excitement, Diamond Dogs found time to tell us what they're all about.
Heather M: All right, first off, who makes up DIAMOND DOGS?
Diamond Dogs: Diamond Dogs are an 8 piece band who are JON on lead vocals, PHIL ROSE on lead guitar, CHATRI on rhythm guitar, PHIL on bass, DANNY on drums, RICK on keyboards, FRANK on saxophone/backing vocals, and finally, HELEN on backing vocals. We also have a sound engineer called LIAM for sound&vision, whom we use for larger gigs.
HM: How did you all find each other?
DD: PHIL ROSE after building a guitar just like Mick Ronson's decided that a Bowie tribute band had to be formed so he could hear it played LOUD. He recruited his brother in law (the same man that introduced him to Bowie in the first place) CHATRI, and started working out classic Bowie numbers. JON came along around March/April '04, and he then introduced PHIL to the band around June. Bob Ambridge joined around August, we then advertised/auditioned drummers and decided DANNY was the only man for the job because we all fancied him. He introduced us to FRANK on saxophone/backing vocals. CHATRI invited HELEN on backing vocals and after numerous problems with the original keyboardist we have now recruited RICK who really can play LIFE ON MARS and sounds like he is an unholy marriage between RICK WAKEMAN and MIKE GARSON.............
HM: Why a tribute band? What lead you to choosing this type of performing?
DD: As musicians we feel it is almost impossible to write original material everyone would enjoy, but as Mr. Bowie has such a wide fan base spread out over 30 years it is hard to ignore the classics he has performed. We really try to do each and every one justice when we perform. The reaction from the crowd proves this............
HM: Why choose David Bowie?
DD: Because the guy is a genius, for a singer/songwriter you would be hard pushed to find any English musician with the drive and imagination he has. A lot of artists songs sometimes sound quite similar, but not with Bowie he has re-invented himself in many different characters , his music going from rock n roll into soul , funk ,ambient, dance, ballads etc, this is what makes his music so timeless.
HM: Recall and describe one of your first shows-where were you? How did people react?
DD: The first show we put on was at a classy old cinema in Hailsham in front of 200 eager Bowie fans ,they applauded each and every song out of the 26 numbers we did ,we were amazed and very ,very pleased at the reaction from the crowd, who wouldn't leave till we reappeared to a standing ovation, this was just after giving them a great version of Heroes to finish the set, we whipped them into a real frenzy, it was a great first gig ,adrenalin was running high.
HM: Who helps you out with your make up and costumes?
DD: The make up is applied by Jon's sister DEB, as JON has to change costumes from ZIGGY to the THIN WHITE DUKE for the 2nd set. JON goes for the Hammersmith Odeon look with ZIGGY's classic blacked out eyes and pale face. DEB also does PHIL ROSES' make up to make him like RONSON........ Which takes some time. Both wear wigs for the first set which are dressed properly by our friend YVETTE, who sometimes has her clothes stolen for use of by the band. Other costumes we painstakingly search for in old 70 s fashion shops in Brighton.
HM: If you were David Bowie and you happened to attend a Diamond Dogs gig, what do think your reaction would be?
DD: We would like to think he'd be proud of what we are doing with his music, trying to replicate a song note for note is not easy, we try not to stray to far from the original studio recordings in our live sets, we were recently reviewed on Bowiewonderworld by LADY STARDUST, being a ZIGGY freak she enjoyed it immensely she quoted, "There were moments during these songs it could have been Ziggy singing.''
It would have been good if he had turned up to our last gig, as it was on his birthday, January 8th which (bizarrely) also happens to be Jon's birthday!
Maybe next year, if he is not busy, I 'm sure we can make room for him on the guest list, we will be back at the same venue in July, see website in near future for details.
HM: Ever had the pleasure of working with David Bowie?
DD: Unfortunately not, but if he loses his voice JON said he'd stand in for him at short notice, and he'd do it for free. He has our number!
HM: If you were to explain a Diamond Dogs show to someone who had never attended one, what would you tell them to expect?
DD: We would expect them to be pleasantly surprised by the 30 plus songs we have learnt, each song constantly fettled at rehearsals to give the best possible version. We don't just get away with it, we really carry it off, taking pride with every number, they could expect to get their moneys worth and sing along to every song, each one a classic from both eras, as well as getting their butts up to the front to dance with everyone else who is getting lost in the moment/music.
HM: And finally, what can followers of Diamond Dogs expect for the future?
DD: Followers of DIAMOND DOGS (formerly Hunky Dory) can expect to see a full on show, taking them right through the ZIGGY songbook of the early 70's through to the 80's with the THIN WHITE DUKE look into the 90 s, we are still learning new songs and plan on adding them to the set when we have perfected them.
We really are enjoying what we do and intend to have a lot more fun on stage performing, we will be doing pubs, weddings and whatever else comes along because we are a fairly new band and want a lot of exposure, so if anyone is interested in booking us, get in touch, we will cater to any size venue, big or small, we are very flexible. But just for now you can see us in pubs and music venues all over the south. We will be coming to London in the near future.
Contact The Diamond Dogs by visiting them at www.the-diamond-dogs.com
---
The Dedicated Sort- An Interview with Heather M. of the David Bowie web site Speed of Life
By: Jasmin Danniels 2005
According to web site operator Heather M of Speed of Life- A David Bowie fan site there are at least three different sorts of fans. "There's the every day sort, who likes David Bowie because they hear 'China Girl' or 'Sufferget City' on the radio," she explains. "Then there are the ones who are dedicated because the music has greatly influenced them in some unique way and they want to share it with everyone they encounter. The third type is the obsessive ones- they have Bowie tattoos and first borns named 'David'."
And dare the world find out what sort of fan she is?
"Oh, I'm the dedicated sort. It's a thin line to walk between dedicated and obsessed, but I enjoy the journey."
It has been all most three years since Speed of Life hit the web, offering up a wide range of pictures and up to date news. She's been ranked in the top ten on the David Bowie web ring, and BowieNet even gave her a nod when fans all over the world celebrated Bowie's 58th birthday with a heart felt card courtesy of Speed of Life.
Catching up with her as she readied to embark on her review of Des de Moor's album "Darkness and Disgrace", I sat down and discussed with her the importance of fan sites and her hopes of one day meeting David Bowie.
Jasmin Danniels: First of all, thanks for taking a breather to talk with me
Heather M: No problem. I needed a break anyway. Fire away!
JD: All right, how about a little background- how long have you been a Bowie fan?
HM: Honestly I think I can say I have been a fan since about 1987. My family rented Labyrinth- immediate fixation on the oddly clad man playing Jareth. Of course I was all of, what five years old, so it would take several years more for my fan ship to grow.
JD: What attracted you to Bowie?
HM: I thought he was hot! Seriously, while everyone was swooning over Jonathan Taylor Thomas, I was gazing in to the eyes of the leather clad pop star of 'Never Let Me Down.'
Now I can say though that there are other things about him that have helped sustain my fan ship. One of the great things about music is that it's personal. If you're a true musician you find some sort of personal attachment to the song you are writing, however silly or serious it may be. Then you release that song and everyone who listens to it attaches something personal to it. I have found Bowie's music to be diverse enough and to have the right amount of ups and downs to fit into my life. Whether it may be that I'm listening to a pop anthem like 'Let's Dance', or a lesser known piece like 'Conversation Piece,' or even a classic like 'The Man Who Sold the World'- I can take a piece of his music and slide it into my life.
JD: Give a one word description for Bowie.
HM: 'Diverse' would be an excellent one. I remember, I was talking to a fan once and she mentioned that her little boy was really into Bowie. One day they were watching a series of music videos, and her son turned to her and asked if David Bowie was many different people. He would appear that way with all the changes he's gone through.
JD: Let's talk about Speed of Life- why start a fan site?
HM: I love doing what I do. Running a web site for me is exciting, and it's not just the fact that I'm doing it for David Bowie. I love working on line, I love learning stuff about html and figuring out how to present material.
JD: So why a fan site?
HM: When Speed of Life first started it was a picture gallery, because I wanted an excuse to have pictures of Bowie on my hard drive [laughs]. It wasn't too long after that 'Reality' was released and the tour started. I kept thinking to myself that there had to be a way to share my excitement over news and things happening without just leaving goofy messages on an MB.
JD: You did, any way right?
HM: Of course [laughs]. And why not? 'Reality' was the first tour I got to see Bowie on- very thrilling. Anyhow, I eventually just sat down and took a good look at two really well known fan sites- www.teenagewildlife.com and www.bowiewonderworld.com- saw how they were handling things, and decided that I wanted in on the action. So I worked in a small news section, soon added on my own MB; with the tour a street team was born. By the time the second leg of the tour was in full bloom I had officially become a part of the David Bowie web ring and Vh1's Artist's Page.
JD: So you can honestly say there wasn't an ulterior motive- 'If I do this, maybe I'll meet him.' Nothing like that?
HM: All right, all right [laughs]! I admit there was that too! Every fan wants to meet their icon- I'm no excuse!
JD: Do you feel that fan sites, in general, are important to the fan community?
HM: Yes, very important. Fan sites offer, I think, greater fan relationships because each fan site concentrates on more specific attributes or aspects of the person their dedicated to. So a fan go into and attach themselves to another group of people that share the same fixation- whether you're into pictures, songs, albums, news, or tribute bands. I honestly don't visit BowieNet (www.davidbowie.com) that much, except for news. I spend a good deal of my interacting with fans at Bowie Wonder World's message board.
JD: So what sort of fans are you trying to attract to Speed of Life?
HM: Well all fans are welcome, of course. Speed of Life is all about what the fans are up to. We're interested in get-togethers, books, bands- anything that a fan is creating or performing. I suppose our biggest things are tribute bands and impersonators. You can blame impersonator David Brighton for that choice of direction- it was him and that Vittel water commercial that got me interested in impersonating.
JD: And you have since then go on to interview and talk with several well-known ones. Do you have a favorite impersonator?
HM: No, not really. I have profound respect for all of them- the energy and dedication that goes into taking on the look and learning the material is just incredible. Some times I think that it takes more talent, more tenacity to impersonate someone than it is to actually create the original persona. There's the look, the sound, and a million fans you have to convince- it's very hard work.
JD: Recently Speed of Life added a page where bands that are inspired by Bowie, glam rock, new wave, and the like can have advertising. You even have someone doing album reviews.
HM: Yes- that is perhaps one of the most exciting things that I have gotten to add to Speed of Life. Music right now is taking a wonderfully new direction with obvious retro-inspiration. Some of the bands have come to me personally, whereas others are ones that I greatly admire and asked after. Everyone has been more than willing and very cooperative.
JD: The latest band you've taken on is The Killers with an actual concert review and meeting. How does it feel to be advertising for such a big name group?
HM: Amazing. In the beginning you have hopes that you'll reach a certain status, but when it actually comes round, it seems unbelievable. I know that without the working relationship I have with KL from Band Board (www.band-board.com), none of this would be happening. I'm grateful to her as well as to all the publicists who have been cooperative.
JD: So here you are, rapidly approaching the entrance of Speed of Life's fourth year- what can fans expect for the future?
HM: More Bowie! Bowie books, Bowie music, Bowie tribute bands, Bowie underwear- well maybe not that. We've talked about everything from shirts to compilations to badges. Expect the same dedicated, and maybe a little of the unexpected.
Visit Speed of Life:
www.speed-of-life.freeservers.com
Contact Heather M:
runningatthespeedoflife@yahoo.com
---
"How Do You Want Me?"-Photographer Pat Pope Talks About His Bowie Experience
Recently Mr. Pope contacted Speed of Life regarding a Bowie picture he was selling. He now shares with us the excitment of doing a photo shoot with DB:
"In 96, Bowie was to headline the Friday night, at the Phoenix Festival....Stratford upon Avon, UK. As I knew the promoters, I suggested I set up a photographic studio in one of the tents, and shoot the acts over three days....and....have an exhibition for charity! They thought this was a great idea, and as they had a tie in with Amnesty International, that would be the cause. I was fine with anything they said, as this was just an elaborate ruse to meet Mr Bowie.....who I had been a big fan of since I was about five.

"I was very excited in the coming weeks......but a little less so when I arrived that morning to find.....ten mile tail backs, trying to get in. It took hours, but we did eventually arrive. But my photo tent, back stage, wasn't up. "it will be ready for you tomorrow", I was told....but that was going to be too late. I begrudgingly shot for the next two days....but my inner fire was gone.

"Until a few months later......In 97 he would be headlining the same festival, but this time on Saturday night! We were on again!

"This time I got assurance from his people that he would indeed be photographed.

"I was nervous.

"The festival came around, and the Friday came and went without a hitch....as did Saturday, early afternoon. Then came the Bowie hour! He was late, but that was OK....Half an hour turned into an hour and a half. By this time I was past being nervous, and began to drink. Another ten minutes went by....and then a voice said "who's Pat pope then?". It was him.....asking for me. "how do ya want me" he joked.....raising his foot to a chair!

"My moment had come.......but I couldn't really speak! I shot my 4 rolls in virtual silence.....shook his hand....and he was about to go. Then his PR woman said, "don't you need a photo in your stage gear?"......"don't worry" she said to me...."we'll pay you". Jesus.....being paid to shoot Bowie.....twice within an hour!

"The second time he arrived, I was totally relaxed. "don't I know you from somewhere," he said. We were BEST friends (for about 5 minutes) We joked......I shot.....we joked some more! After a few minutes, someone suggested that David might want to get on stage.....as there were a few thousand people waiting. "why don't you come on stage and get some shots" he suggested. I think at that point I had died and definitely gone to heaven. "why not" I said.

"So that's how I ended my evening.....on stage with David!

"My friendship kind of faltered there.....as I haven't met him again since...but I live in hope!"- Pat Pope 17/03/05
---
SAME OLD THING IN BRAND NEW DRAG?- An interview with Laurence Bolwell of The Bowie Experience
By: Heather M 2004Unloading from the mother ship in southern England, The Bowie Experience has invaded the world of David Bowie impersonators and tributors to be met with open arms.Recently they embarked on a venture not too short of extraordinary- attempting the recreation of a classic Bowie show titled "The Story of David Bowie." Set for a mid January release in 2005, the group borrowed a familiar Ziggy gig set list, added a few other favorites, threw in a live audience for authenticity, and rocked out live over the weekend of October 9th 2004. Catching up with them just before filming, the band's own David Bowie, Laurence Bolwell, gave me the history of The Bowie Experience, speculations on that burning question 'Who Is David Bowie?', and who his dream show would consist of.
Heather M: Give us a little background first- exactly who makes up The Bowie Experience? How did you all find each other?
Laurence Bolwell: The first member I met was Al` Palmer the bass player. It was that time of year in England when the sun machine had well and truly come down and naffed off behind the college bike sheds not to be seen again for six months, he has a soulful resonance that`s truly seismic.The next moment of serendipity was the meeting was with Mark Arnold, guitar, already a shining star- he`s the guy I work closest with, his ability to authentically re-create all of David's guitarists playing is spine chilling, he really is the real McCoy.Oliver Richond-Jones is our drummer. I`m not sure from whence he came, somewhere underground certainly, the master of the skins in every sense.On piano and keys is the original young man at odds with the Bible, Stewart Darling, his talent like his presence is prodigious. He came as a dep` for our then pianist, I asked him to stay and he stole his room.With this band I am the luckiest guy. Oh and I must not forget our occasional backing vocal duo `The Suffragettes`, these ladies add that touch of beauty to our beast.
HM: For you personally Laurence, what got you interested in impersonations? Was there something prior that led you to impersonating?
LB: Well actually I`ve never been interested in impersonations to be honest, it seems to me that it`s all about re-interpretation, which is something I`ve toyed with forever, taking on guises and desguises. With regards my present incarnation it was a case of `son we want you`, so what could I do?, what did I do?
HM: I have seen a few promo shots and noticed you portray quite the variety of Bowie characters/personas. Who helps you with your makeup and costumes?
LB: Is there anyone out there, any time? No, I do it on my own. With pieces that I find in second hand stores I go to a man who lives in the English hinterland among the mineshafts and pieces of machinery that make war on terra. He has a bad leg though he's not a broken man. And with his sewing machine he stitches what I have found together so I can be one of David's personas just for one day. Oh and he`s thinking of renting the moon above his shop. Make-up is sourced from the local pharmacy and applied with shaking hand by me.
HM: Now about this DVD that was filmed over the weekend of October 9th, 2004. BowieNet (www.davidbowie.com) described the event as an endeavor to recreate the feel of an authentic Bowie concert. Did you have a particular show in mind when you set out to do this?
LB: I think the answer to that is in the statement, `an endeavor to recreate the feel of an authentic Bowie concert.' So whilst it was very loosely based on a Ziggy gig because of some of the set list content, it would be wrong to say that I had any one particular show in mind. Someone who I think was famous for something once, asked the question `what is a David Bowie?` It's a question I strive to find the answer to every time I walk on stage, I turn myself to face him, but I`ve never caught a glimpse.
HM: So coming from The Bowie Experience's perspective, what was your goal, or hopes, in doing this DVD?
LB: A stab at immortality? Though they do say that digital information decays at an alarming rate, so that won`t work. To be a side product from the brow of the super-brain? Perhaps, but wrong reference, so I suppose it`s a case of as a performer and musician there is a desire, maybe even a need to have a presence on all formats to be a serious contender, or at least a player.

HM: Have people's, particularly the fans', reactions been what you expected?
LB: Well you have hopes but never expectations, so all they gave, they gave for free.
HM: Ever had the pleasure of working, or at least, meeting Mr. Bowie?
LB: No I`ve never had the pleasure, except in the corner of the morning in the past, but he`s always welcome to tea and we can talk about this `n` that, and a world to come.
HM: If you were to describe a Bowie Experience show to someone who had never been to one, what would you tell them to expect?
LB: An Escher picture, laberynthine perspectives leading to inconclusion, inducing expectation, anticipation, and release. David`s songs from Space Oddity lift off through all the twists and turns to the nebulous New Killer Star and beyond via Oxford Town. A set so amazing it even smells like a street, but all done with respect for the original, expect to be a part not just an observer, expect symbiosis, expect `The Bowiexperience`. Or put another way, expect to have a jolly nice time on a transport of delight with like minded passengers with a good sense of humour.
HM: And finally, what can Bowie Experience fans expect for the future?
LB: The same old thing in brand new drag? Well maybe, but not if I have anything to do with it! And really that's the point, the journey will continue but `the fans` as you say, are the ones who will provide the relief to the map if they so choose. But if you want to know what's going on in the vacuum of space between my ears then...An idea which amuses me is, imagine a show billed thus,
David Brighton as David Bowie!
Laurence Bolwell as David Bowie!
David Robert Jones as David Bowie!
Guest starring-David Bowie!
It seems to me that Bowie`s fictional characters could become flesh given the right medium and appear in the same space and time, a kind of counterpart contraction to the law of expansion, but `I digress`. In addition to spreading the gospel according to David Bowie, there is the small thin chance of some festivals in 2005, and maybe support one or two `names`, also continued development of the theatre show which until now has only stumbled into town. Also planned are a series of `unplugged` shows which will be more interactive with the audience, these will be tied in with the `unplugged` recordings. After all, this is my food though foul, so come, and make it all worth while.
Want to contact The Bowie Experience- visit them at www.bowiexperience.com
---
WHAT I CAN SELL ON STAGE-An Interview with Rob Storm
-by Heather M 2004 He's got the accent, and with a little bleach and a yellow suite this Bowie impersonator is ready to strut the stage. Between Biker bashes and his search for a woggle, Rob Storm takes time out to introduce himself to fellow Bowie fans and answer a few questions for Speed of Life about his tribute, his past, and why Let's Dance is his theme.
Heather M: Is Rob Storm your real name?
Rob Storm: Rob Storm is a real name, but not my real name unfortunately, as Mr. Bowie seems to think it's a cool name, I thought I would adopt it. Rob Storm is a good friend of mine who produced my band in the late 70s /early 80s, who went on to be involved with, The Verve, Oasis, to name a few, and now resides in Dubai, as a sound engineer for major live acts.
HM: What got you interested in doing impersonations? Were you involved in something prior that led you to doing impersonating?
RS: I recall being dressed up as a spaceman, (bubblewrap, sprayed silver) for a school play themed on the first moon landing. That was my first experience on a stage. I'd be nine or ten then. I formed a band during later school years, named, BB3c, then, Frightened by Strangers, which was my grounding for a very rudimentary visual show, which after a short lived period faded away (I have some old photos i fondly look back on now and again).
HM: So why David Bowie?
RS: I was constantly being told my vocals were very alike and when I got to 40 I had a craving to reawaken my musical side up again but in the guise of David Bowie.
HM: Recall and describe your first time impersonating Mr. Bowie- where were you? How did people react?
RS: Get this; Bloaters, Bontuchel, Bikers Bash is held annually deep in the mountains of North Wales and I had my 12 string with me to strum out a few classics round the all night burning camp fire. After I'd pumped out a few rockers I ran out of songs, so I sang until daybreak doing all my Bowie faves, rousing the roosters about 6 in the morning with, Port of Amsterdam. The valley had a natural echo, you couldn't buy a studio to resonate sound like it. I always look forward to letting my hair down at Pete and Becci's bash and am always pleased to be invited back.
HM: You seem to lean more towards the "Let's Dance" David Bowie- how come?
RS: Granada TV studios wanted me to perform Space Oddity or China Girl, so it was decided with a flip of a coin. China Girl won the toss. A suit was tailored for me and the image for television was of that period, though being 40 when it was recorded in the year 2000, I was lucky enough to pass as a 36 year old Bowie with the right (loads of) make up.
HM: Who helps you with your makeup and costumes?
RS: I tend to look around myself for bits and pieces but if anyone has any cast outs, send em to me, especially a woggle, I can't find one anywhere.
HM: How long now have you been doing this tribute?
RS: I started my salute in 2000 after my appearance on Stars in their Eyes.
HM: If you were to describe your performance to someone who had never been to your one man show/tribute to David Bowie what would you tell them to expect?
RS: I'd tell them to expect the unexpected.
HM: Ever had the pleasure of meeting or working closely with Mr. Bowie?
RS: No, unfortunately.
HM: Finally what can Rob Storm followers expect for the future?
RS: The unexpected.
Contact Rob Storm by visiting his web site at www.virtualbowie.com
---
WHEN YOUR MASK WENT ON- An Interview with David Brighton
By: Heather M 2004
Heather M:Is David Brighton your real name?
David Brighton: That's what Mr. and Mrs. Brighton gave me...
HM:What got you interested in doing impersonations? Was there something prior to it that got you involved in impersonating?
DB:I sort of got sidetracked into doing the whole impersonation thing. About ten years ago, I'd reached a point where I needed to take a break from the frustrations of the record biz for a while. I'd been playing lead guitar for bands like Quiet Riot and others before my own band got a recording contract. What followed is a pretty common story. Radio stations in the US and Europe had really gotten behind our first album and the singles that had been released from it. so we were getting a good amount of airplay. But the sales up to that point were only moderate. So for our second album, our record company wanted us to change our musical direction and emulate whatever groups were the biggest sellers at that moment. We weren't interested in doing that. It became apparent that if were going to make the kind of records we had set out to make, we were going to have to look for another label. As someone in glitter and platform shoes once said: "It's not easy having a good time" After months of agonizing and attorney's legal fees we got ourselves freed from our contract. Many more months of making new demos, shopping for a new record deal, etc. followed, dragging on until the band's moral had eroded to an all time low. Bands are fragile. When a group has high expectations, works really hard for a number of years, finally gets a record contract, and things fall apart it's pretty devastating. We finally broke up. Most of my band members moved to Nashville and started recording and touring with some of the country and gospel acts that were popular at the time. I was feeling really drained and just couldn't bring myself to jump right back into the rat race just yet. I stayed in LA and through an unexpected sequence of events, found myself playing George Harrison with the original cast members of Beatlemania. My band wasn't very happy about it at the time. They'd call me saying, "Come to Nashville David, they could use a songwriter and a guitarist like you out here" But playing with the Beatle bands proved to be very therapeutic for me at the time. It allowed me to keep working as a musician while taking a much needed break from the business side of the recording industry for a bit. Cameron Crowe (in Almost Famous) was right. The suits did ruin rock and roll. But I digress...
HM: Why David Bowie?
DB: I came to another cross road. Doing the Beatles thing had been really, really great, but after maybe five years of touring the world with various Beatle acts, it was time for a change.
Bowie was another rock icon who had always inspired me. He's different, in a world of Spinal Tap rock bands, here was a genuine artist... a brilliant songwriter and performer. People like to watch him.
Also, somewhere in my little brain, I liked the fact that he went against the grain. He does his own thing. He's not afraid to be an individual. Side note: Back in school, I was never the guy who tried to be like everybody else. My friends and I were art and film students and we were somewhat eccentric. At an age where most adolescents are trying to fit in, we tended to do the opposite by default. It wasn't a conscious decision exactly, it was just that being normal didn't seem very interesting. Plus, now that I think about it, we were too out there to blend in even if we had wanted to.
But again I digress...back to choosing Bowie: I loved the music. As Lester Bangs said, "We don't choose music, it chooses us." I guess the fact that I could emulate to some degree certain things Bowie does vocally and so forth had at least a small bearing my decision! So I started thinking about putting together a Bowie show. Not just a band playing songs, but a legitimate stage production on a scale similar what I'd experienced in some of the really elaborate Beatlemania productions.
HM:How did you go about assembling a band/crew that would want to perform David Bowie songs?
DB:I was fortunate. Bowie and the musicians he's worked with over the years have created some absolutely brilliant rock and roll. And, seeing as how great musicians love to play great music and in Los Angeles, there are a lot of great musicians... it hasn't been too hard to find really exceptional players who are very into performing Bowie's material.
I also thought it might be a novel idea to put together a group of people that were fun to hang out with. I started by approaching people I'd worked with before.
Larry Treadwell was one of the first people I called. Larry's recorded with all kinds of acts, from the Rolling Stones to Belinda Carlisle. He's a great guy too. Same with Howie Anderson. He's played guitar with people like Brian Setzer and the Strawberry Alarm Clock. He's also one of the lucky few who saw Bowie and Ronson onstage in the Ziggy days Jason Smith and Shane Soloski, (our drummer and bass player) toured with Five For Fighting and others. Zach Throne toured with Susanna Hoffs from the Bangles; Tuesday Knight had her own record deal on CBS. It keeps going, we've had members of Alice Cooper's band, Brian Wilson's band, Shakira's band and Eddie Money's band fill in with us. I've even had guys from Oingo Boingo call me wanting to play.
So I get to badger all of these wonderfully talented musicians until they learn every note exactly like on Bowie's records. And of course they want to choke me for it. This isn't a bar band sort of jamming through some Bowie songs. Every part has to be right, which is why it's really a pleasure to work with the core group we have.
HM:Recall and describe your first time impersonating David Bowie- where were you? How did people react?
DB:The first show we did was at an English club in Old Town Pasadena, California. People sort of stared at us with dumbfounded looks on their faces: like they were going back in time. It was kind of weird having nineteen year old girls to forty something year old men coming up to us after the show telling us how seeing and hearing us made them feel like they'd been transported back to their High School days. It was a testimony to the scope of Bowie's appeal and longevity.
HM: You portray a variety of David Bowie personas/characters- who helps you with your makeup and costumes?
DB:There are costume makers all over LA who put up their closed signs and run and hide when they see me walking up to their shops with yards and yards of neon colored fabric under my arm. After harping on a multitude of poor seamstresses until they've gotten every stitch, piece of thread and button hole perfect, we've come up with a few really good costumes.
Actually I've been really fortunate to find some great costume makers, boot makers, and wig makers who really do excellent work. I have some friends in town at a place called Makeup and Monsters who do make up and masks for the Planet Of the Apes movies, etc. who've been a big help. They made the Aladdin Sane mask on the stick for me that I use in one segment of our show. Which is an interesting side note: I got a box in the mail one day and was a bit stunned to find that someone had sent me an actual cast of David Bowie's face. I'd seen something like it in a documentary film called Cracked Actor, where Bowie had a cast made of his face backstage before a concert during his Diamond Dogs tour. Anyway, it was a bit strange to open this box and have this plaster mold of Bowie's face staring at me. Since I wasn't quite sure what to do with this unusual gift that someone had been gracious enough to send me, I brought it in and they made the Aladdin Sane mask for me from it similar to the mask Bowie used on the tour that I mentioned. They've also hooked me up with some great costume makers. We've had some of our costumes made in LA and some made in New York. I've I have learned a lot about doing Bowie makeup from a number of the great makeup artists who have made me up for photo shoots or TV stuff I've done as Bowie. I guess there are some good things about living in LA. All of these people are here.
HM: How long now have you been doing this tribute?
DB:We started performing live in late 1999 like the song. So it's been about five years. Like the other song.
HM:If you were to describe Space Oddity's performance to someone who had never seen a show, what would you tell them to expect?
DB:What can people expect? Something different. It's not the obvious tribute act. If you want to see a tribute to Led Zeppelin or something, there are a zillion of them. With Space Oddity, one should expect to hear great music and experience an exciting stage show lot's of costume changes, spanning Bowie's thirty something year career. And as much as I hate the cliche they can expect a lot of attention to detail and hopefully, an authentic sense of community. There's a definite sense of connection when we perform together. I'm feeling the love right now.
HM:In the past year you got to actually work with David Bowie for the Vittel water commercial - was that your first time working with him? What was it like?
DB:Yes, it was my first time working with Bowie. It was obviously a real honor and a great experience. Bowie said a lot of interesting things. He was also very witty.
The whole "celebrity" thing in general is a bit strange. It's always a bit weird to be standing next to someone you've been seeing in movies or on TV or listening to on the radio for years.
HM: And finally what can Space Oddity followers expect for the future?
DB:There are so many facets of Bowie's almost forty year career that people can expect to see integrated into our future shows. I'm not sure where to begin or what to give away. We're working on some big things. There are costumes and eras we're preparing to unveil. There will be more pre-Ziggy, Hunky Dory, things from some of the movies, more Ziggy, more later Bowie, more of everything. You just can't squeeze all forty years into one or two hours. We're working in more and more as we go always striving to make things better and better.
Contact David Brighton and SPACE ODDITY by visiting thier web site at wwww.davidbowietribute.com