Bowie's Schedule
"I was running at the speed of life..."-Secret Life of Arabia
Check back to this page for releases, interviews, and things that Mr. Bowie will be keeping himself busy with. And yes, the Highline Festival dates are on the calendar.
---
Speed of Life calendar:
TV Spots
September 18th- THE TODAY SHOW (NBC)- 7am-10am ET, performing three songs as part of the Toyota Concert series

September 22nd- THE LATE SHOW/ DAVID LETTERMAN, performing New Killer Star

September 28th- 60 MINUTES (CBS), profile with Mike Wallace
Mr. and Mrs. Bowie after the traditional piggy-back ride race at the Atlantis resort.
---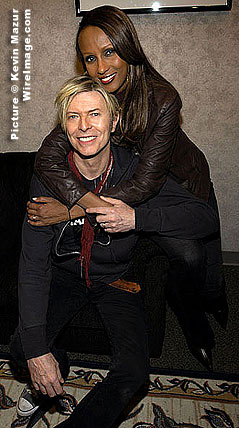 Radio Guest Spots
In December Bowie sent out his performace at the Atlantis resort in the Bahamas live across the radio waves.
---
Reality Tour Dates
Album Releases
March 2006 YOUNG AMERICANS COLLECTOR'S EDITION CD/DVD AUDIO
Here's how it breaks down:
Newly-remastered CD:
01 Young Americans
02 Win
03 Fascination
04 Right
05 Somebody Up There Likes Me
06 Across The Universe
07 Can You Hear Me
08 Fame
Bonus tracks:
09 John, I'm Only Dancing (Again)
10 Who Can I Be Now?
11 It's Gonna Be Me (with strings) (previously unreleased)
The DVD will contain the same tracklisting as above, but will be made up of new 5.1 surround sound mixes by Tony Visconti, (DTS 96/24 and Dolby Digital) and again in stereo as the CD but in higher resolution (PCM 48kHz/24 bit).
The DVD will also contain footage of Young Americans and 1984 from the Dick Cavett TV show.
November 14th (15th in America)- DAVID LIVE and STAGE DVD-Audios will be released.
Each DVD-A will inlude the folowing:
~ MLP 5.1 (for playing on DVD-A players) 48kHz 24 bit
~ DTS 5.1 (for playing on DVD-A and DVD-V players) 48kHz 24 bit
~ Stereo (new mix as per released CD's playable on DVD-A and DVD-V players) 48kHz 24 bit
~ Photo gallery which will include images used on packaging, and scans of related record sleeves, press adverts and memorabilia.
September 27th- 1.OUTSIDE, EARTHLING, and HOURS... dual disk collectors items to be released. Hard to find tracks that were generally only on promos and limited editions will appear on the second disks.
October 26th 2004- REALTIY Duel Disc to have a US nation wide release. More info posted over in The Stardust Lounge (click the Word On A Wing tab on the menu bar).
February 21st 2005- DAVID LIVE and STAGE to have world release. More info over in The Stardust Lounge.
---
Visual Releases- Videos, DVDs
December 25th 2006- ARTHUR AND THE MINIMOYS
Directed by Luc Besson
Story line:
Deep underground, the Minimoys are waiting... for a champion. Arthur's grandfather disappeared four years ago. All he left behind are his notebooks full of stories about little -- known African tribes—including the Minimoys, a miniature people who are all less than one inch tall. But the Minimoys can't possibly be real... can they?

Arthur is about to find out, as he uncovers a hidden message that catapults him on an adventure wilder than he had ever imagined. In just three days, he must find a way to the land of the Minimoys, recover a stolen treasure, battle an invading force of mosquito -- riding warriors, defeat an evil wizard, win the heart of a very independent princess (Madonna)—and somehow get back home again.

It seems like an impossible task, but as he'll discover along the way, sometimes the littlest heroes can make the biggest difference.

Featuring the voice talents of: Snoop Dogg, Madonna, David Bowie, and Freddie Highmore
October 19th 2004- REALITY DVD to have world-wide release.
Janruary 25th 2005- MERRY CHRISTMAS MR. LAWRENCE makes its DVD debute as a collector's edition. Region 2 only available at the moment.
Release Information:
Studio: Optimum Home Entertainment
DVD Release Date: January 24th, 2005
Run Time: 124 minutes
DVD Features:
Interviews With Nagisa Oshima, Ryuichi Sakamoto and Jerry Thomas
The Oshima Gang Making Of Documentary
Theatrical Trailer
Main Language: English
February 7th 2005- LOVE YOU TILL TUESDAY will be released as a region 0 DVD.
Tracklisting:
01 Love You Till Tuesday
02 Sell Me A Coat
03 When I'm Five
04 Rubber Band
05 The Mask
06 Let Me Sleep Beside You
07 Ching-A-Ling
08 Space Oddity
09 When I Live My Dream
And what's really sweet is the bonus feature, The Looking Glass Murders, the 1970 remake of Pierrot In Turquoise . Bowie plays Cloud, a character who apparantly likes to sing this tracklisting:
01 When I Live My Dream
02 Columbine
03 The Mirror
04 Threepenny Pierrot (Which borrows the melody of London By Ta Ta)
05 When I Live My Dream (Reprise)
---